Compatible with all consumables, including: PLA, ABS, PETG, TPU, PP, PC, Nylon, PEEK, PEI, and composite materials containing abrasive additives such as carbon fiber, steel, wood, boron carbide, tungsten and phosphorescent pigment.
Share
View full details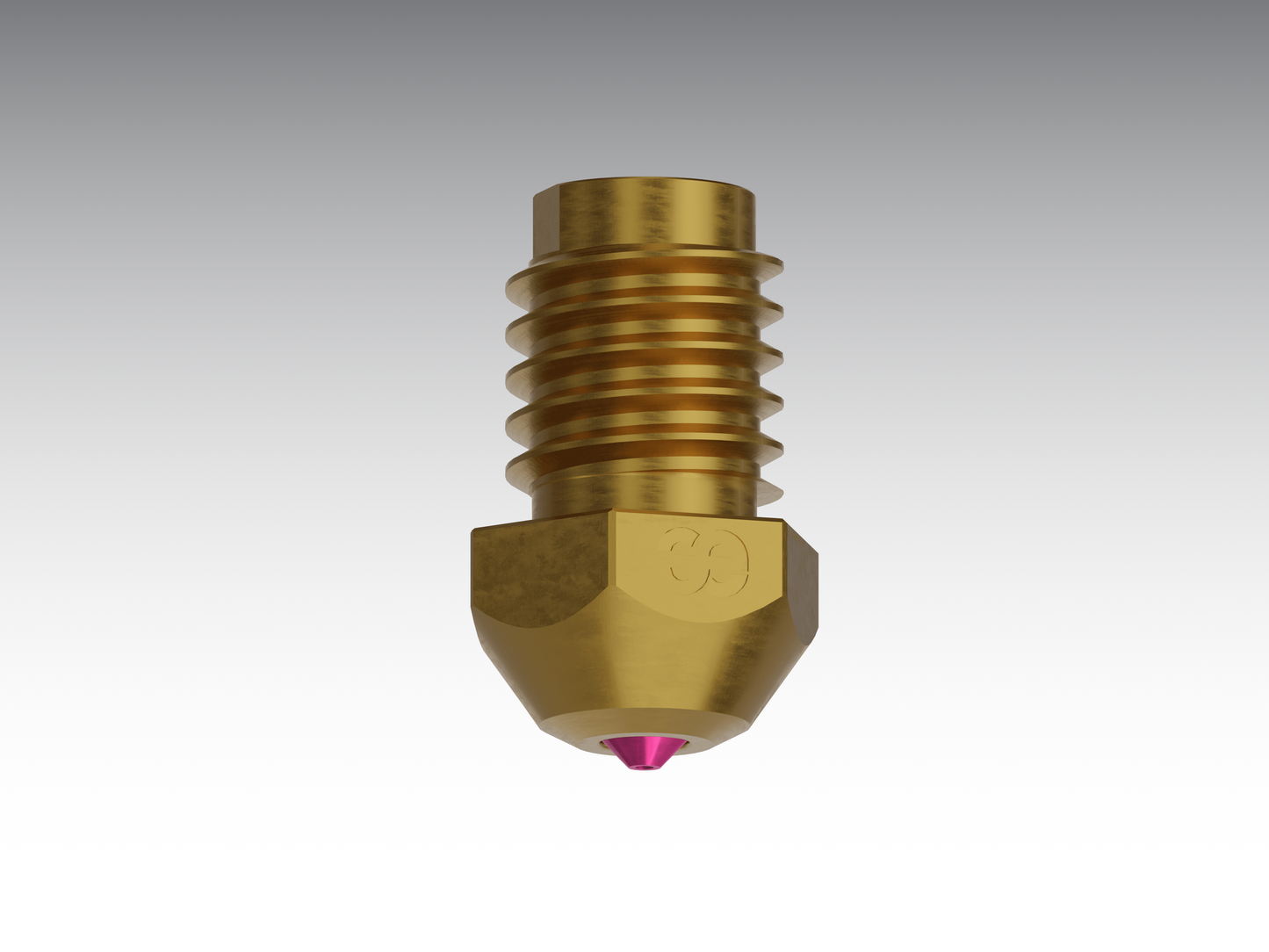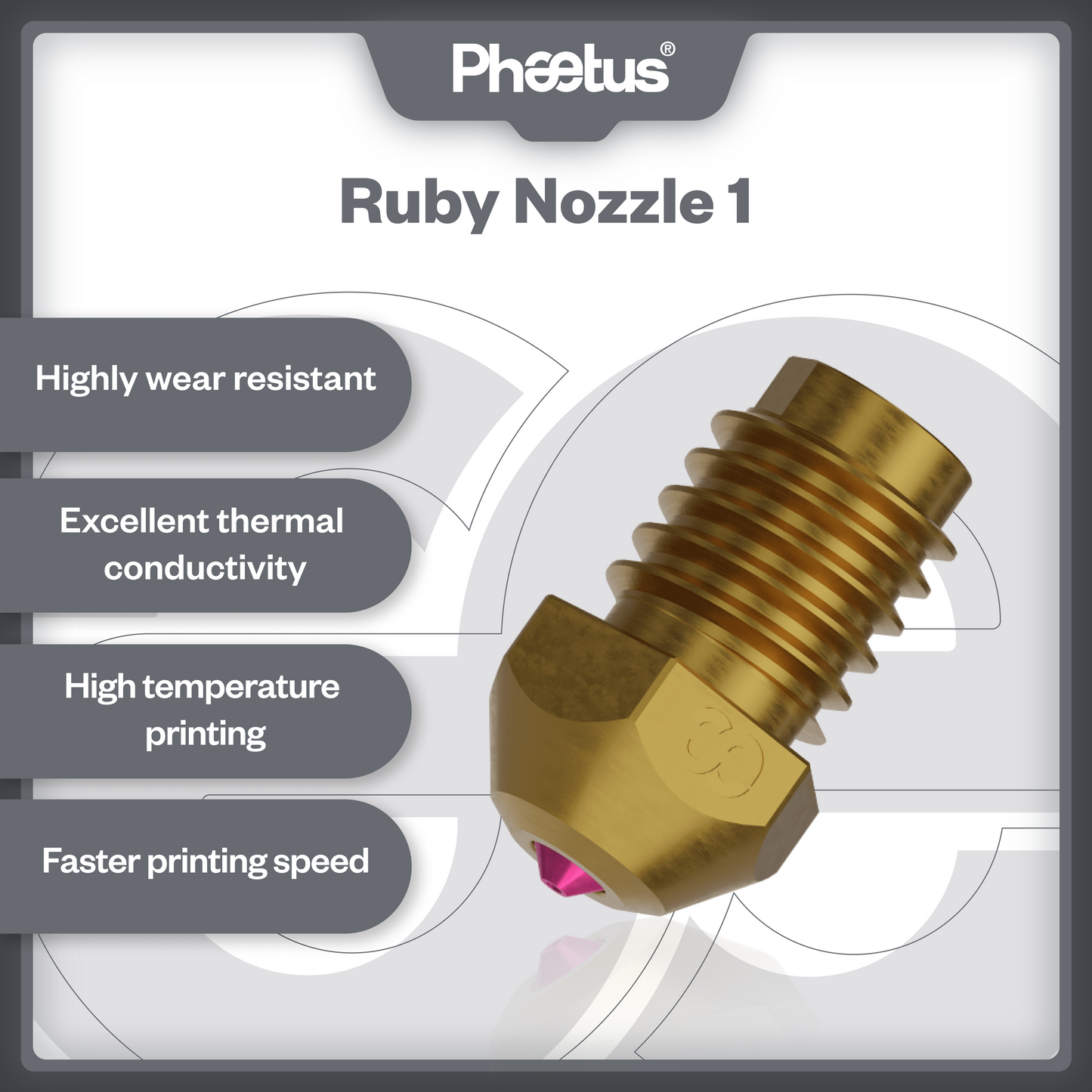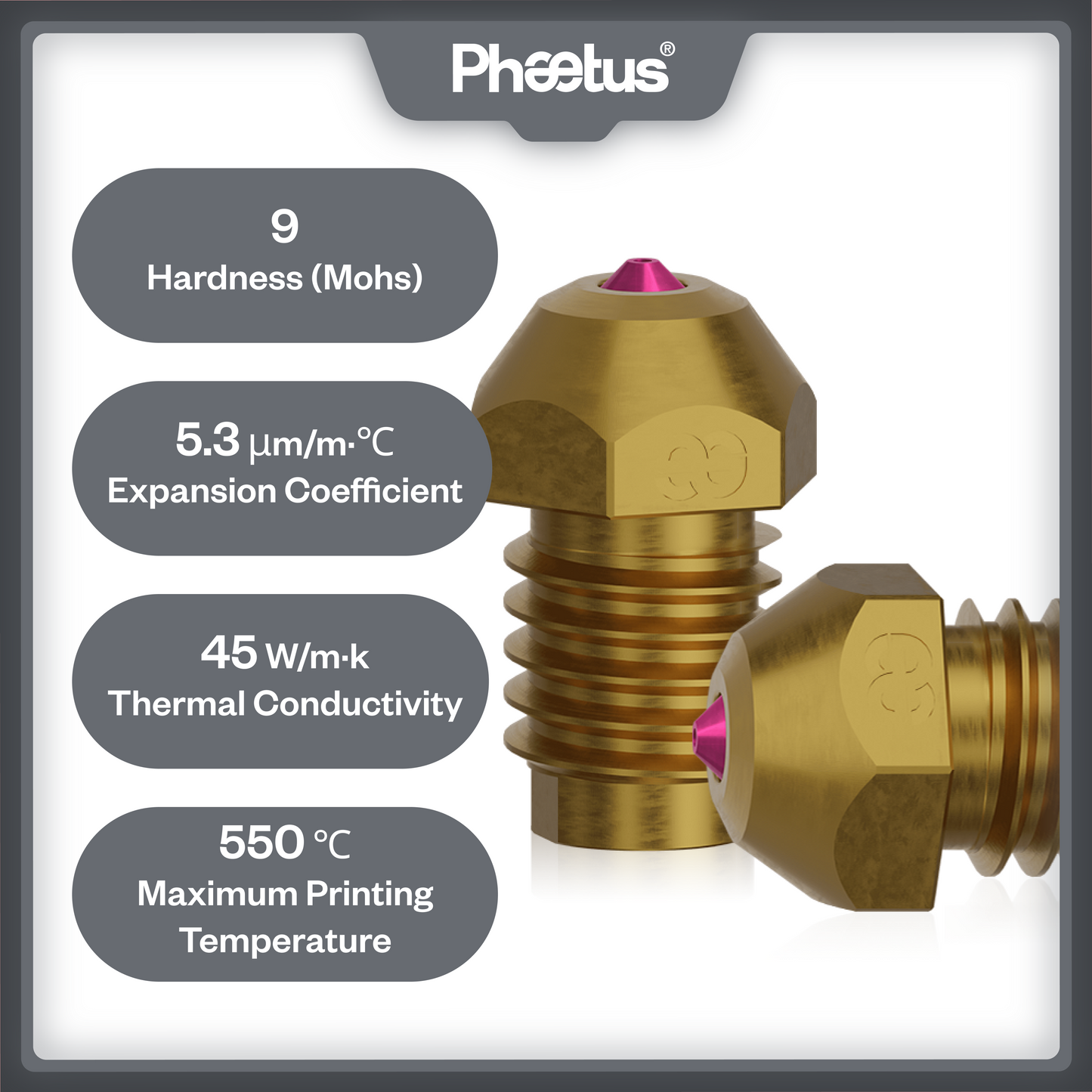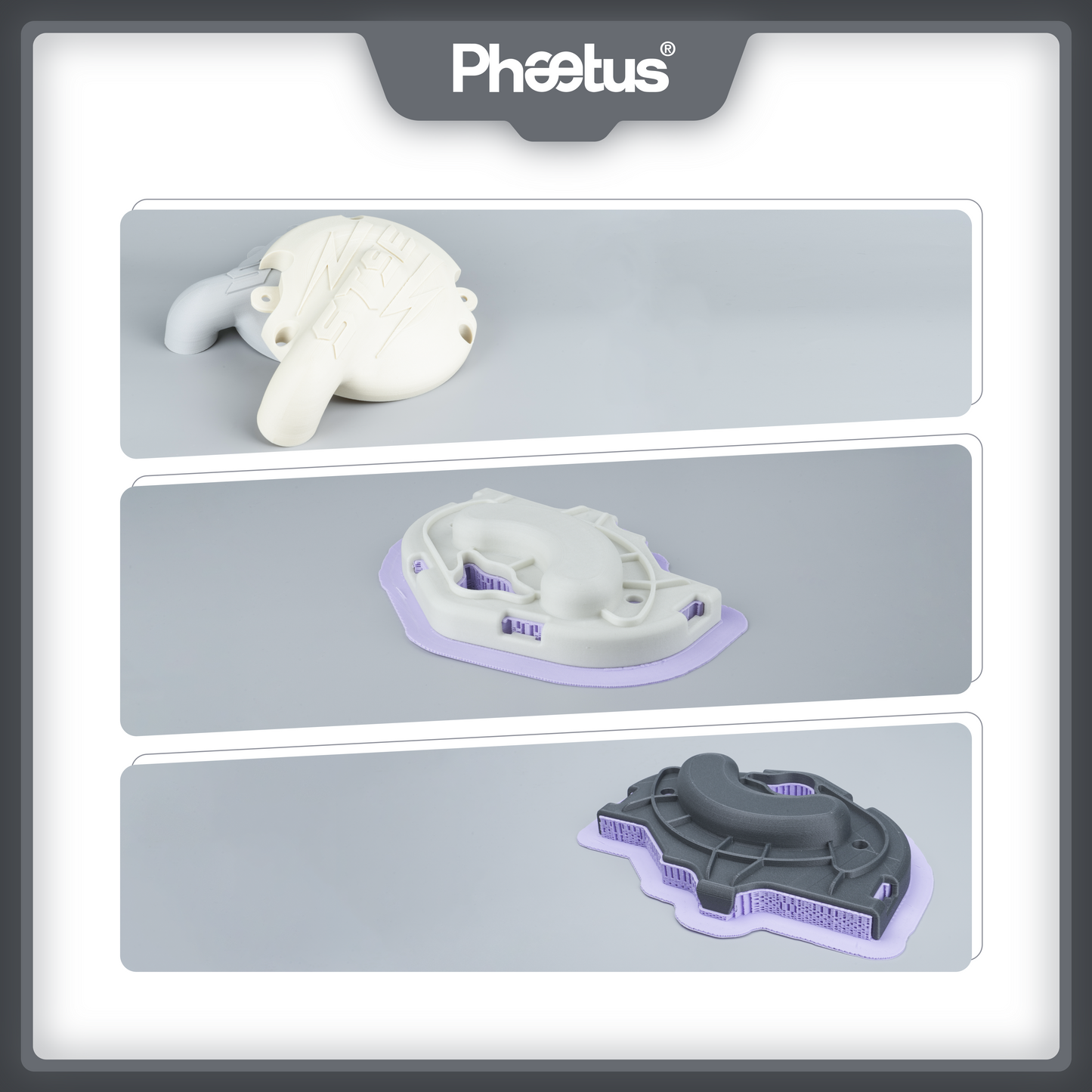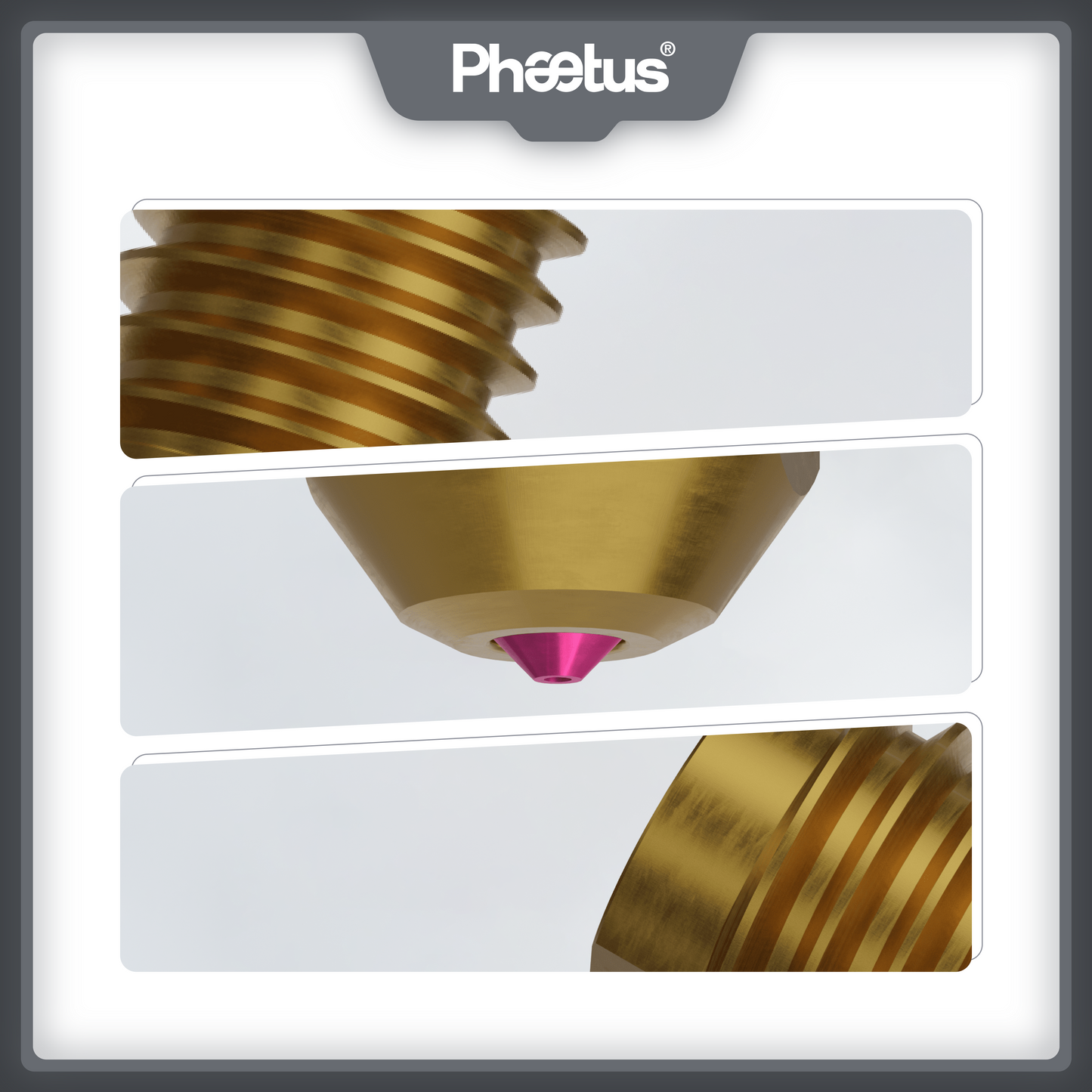 550℃

Maximum Printing Temperature
Adaptation Models
RepRap M6 | 175/300:0.25mm/0.4mm/0.6mm/0.8mm
MK8 | 175/300:0.25mm/0.4mm/0.6mm/0.8mm
MK10 | 175:0.25mm/0.4mm/0.6mm/0.8mm
MK10 PTFE | 175/300:0.25mm/0.4mm/0.6mm/0.8mm
RepRap M6 Plus | 175/300:0.25mm/0.4mm/0.6mm/0.8mm

Performance Analysis
Highly Wear Resistant | The purity of ruby mounted at the tip≥99.99%, Mohs Hardness:Grade 9 (micro HV ≥ 15691 N/mm²), Infrared Transmittance> 85%; High quality ruby makes sure that even the toughest materials will be printed easily.Excellent Thermal Conductivity | The Phaetus Ruby Nozzle is made from first-class brass and copper alloy which are with excellent heat conductivity;High Temperature Printing | Phaetus copper alloy ruby nozzle can work perfectly for the high-temperature 3D printing. It will not start to soften until way beyond 500℃;Faster Printing Speed | The ruby was born with a special taper, scientific diameter-depth ratio, and full range of sizes. It has larger extrusion volume and faster printing speed than other ruby nozzles in the market, while maintaining its high wear-resistance and reliability.High-Precision Manufacturing Quality | The Phaetus Ruby Nozzle is manufactured, assembled and tested in a modern and high-quality oriented factory. From raw material selection to any dimension tolerance, Phaetus shows a model of excellence in quality.
Applicable Filament
One Nozzle , All Materials
From conventional printing with PLA to PEEK, even to Carbon Fiber reinforced materials, Tungsten Carbide Nozzle can easily handle with long time printing with any material.